The Empire State building is an excellent way to experience the awe and massiveness of New York City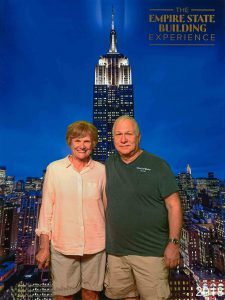 While visiting New York City, Charles Oropallo and Susan Franklin Oropallo did the Empire State Building tour. It was the first time since very long ago that they had been visited New York City.
Charles had last visited New York City on numerous occasions while he was working for Amtrak 1971 and 1972.
Charles Oropallo was last in the Empire State building as a child in the early 1960's – roughly 58 years earlier.
As a youngster, Charles Oropallo was part of the Albany Boys Club on Livingston Avenue in Albany, New York. Charles's opportunity to go to New York City involved a tour to New York City sponsored by the Albany Boy's Club. Charles Oropallo traveled for the day by bus with other Boy's Club members and chaperones from Albany, New York to New York City.
Susan Oropallo had visited the Empire State Building also as a child about 60 years earlier. Her trip to it was sometime around 1956-1957. Susan's mom, Berta Wood Franklin, was very much into volunteering with the Girl's Club in Greenfield, MA at that time. A Girl's Club member, Sally Finn, won a trip to New York City to be interviewed for the news. Susan Oropallo's mom was to chaperone Sally on the trip. This gave Susan the opportunity to go along.
Charles and Susan were amazed at how it really didn't seem to have changed a lot since their memories of being up there last. Surrounded by what seems like an infinite sea of buildings it seemed eerily familiar.